"Time for Wine" Concerts
"Time for Wine" is a concert series that takes place on Thursday nights at Clos LaChance. Guests get to enjoy incredible vineyard views and a variety of complimentary live music acts!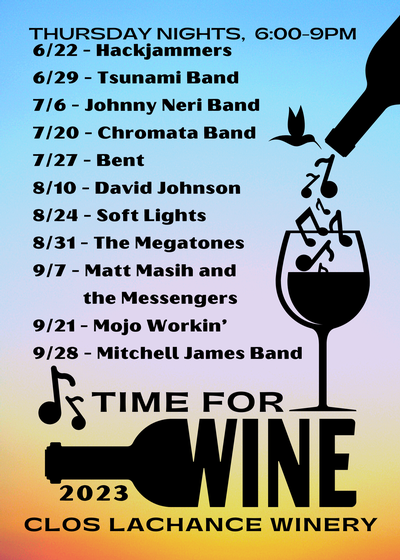 Over the years, this once small acoustic gathering, has grown into a very popular event! This growth is very exciting to us at Clos LaChance, however, safety is our first priority. We have initiated the following policies and procedures to ensure all our guests have a fun and safe experience.
Music Line-up: Click here for the "Calendar of Events" and select a "Time for Wine Concerts" event for a list of this season's band line-up (band list becomes available in the Spring of each year).
Cost to Attend: Time for Wine is a complimentary event that is open to the public (21+ only facility)
Hours: The Clos LaChance Tasting Room is open from 10:00am-4:00pm. The Time for Wine event is from 6:00-9:00pm.
Parking/Capacity: Parking is available on a first come, first serve basis. All parked guests can take advantage of the complimentary shuttle service available. Once we reach capacity the gates will close and we will no longer allow cars or people to enter the Clos LaChance property. Note, cars are not legally permitted to park on Watsonville Road.
Seating: Dancing and seating will be on the lawn, music will be under the arbor. We allow individuals to come to the winery prior to the event to enjoy a bottle of wine and hold a seat where appropriate (see below for seating details). However, we do not allow individuals to put their belongings on a table and leave.
Terrace: The tables in this area are available to select Wine Club Members (Vintner, Collector, Diamond and Platinum ONLY) who RSVP in advance. Table reservations start after 10am on Monday, the week of the event, and go through Thursday @2pm - CLICK HERE TO BOOK A TABLE. Tables are limited and can hold up to 8 people. All reserved tables will be held until 6:30pm the night of the event. All tables not occupied by the reserving party will be open to first come-first serve seating that night.
Lawn: This is open seating for those who bring a blanket and low lawn chairs (Clos LaChance is not able to provide tables or chairs for the lawn). Any items that need to be inserted into the lawn are not permitted (umbrellas, stakes, etc.).
Mulberry Grove: Tables are available on a first come-first serve basis. Tables and chairs in this area cannot be moved to any other section of the winery.
Age Restrictions: Clos LaChance is a 21+ only facility.
Wine/Beer: Wine (by the glass and bottle) and beer is available for purchase throughout the evening. To allow us to continue to provide this free event to the public, we ask that guests support us through the purchase of wine and beer. We are confident you will enjoy what you taste! No wine tasting will be available during the event. Outside alcohol will be confiscated including previously purchased Clos LaChance Wines.
Food: Food is available for purchase during Time for Wine events by our in house chef. Guests are also welcome to bring picnics to Time for Wine.
Bag Checks: Clos LaChance staff members will be stationed next to all entrances checking bags. All outside alcohol will be confiscated, including previously purchased Clos LaChance Wines. Water in a sealed container is permitted.
Dogs on Property: Dogs are only permitted in the Garden Patio of the winery unless they are a certified service animal. All owners of service animals will be asked for permits upon arrival.
Thank you for taking the time to read about our popular Time for Wine event. Your participation in the guidelines outlined above will ensure a fun and safe event for everyone. Cheers!