Winemaking
Jason Robideaux
Vice president, vineyard and winery operations
Jason Robideaux is Clos LaChance's VP of Winery and Vineyard Operations, overseeing all activities that take place on the production floor. These include all wine movements, treatments and adjustments that may take place in the crush pit, tank cellar and/or the barrel cellar as well. Jason also helps manage bottling schedules and supply inventory for CLC products. He joined the Clos LaChance team just prior to the 2007 crush, after recently returning from the Hunter Valley in Australia's beautiful Wine Country, where he worked the 2007 Harvest Season as a Vintage Winemaker for Rosemount Estate. Prior to working the 2007 crush in Australia, Jason has worked all over the state including Valley of the Moon Winery in Sonoma and TAZ Vineyards in Templeton, where he focused most of his duties on Lab and Cellar work. Jason attended Cal Poly, San Luis Obispo where he received his degree in Wine and Viticulture emphasizing in Enology. When Jason is not running in between barrels and climbing in and out of tanks, he enjoys playing and watching sports like Football, Baseball and Golf. Go 49ers! Go Giants!
Steve Driscoll
Winemaker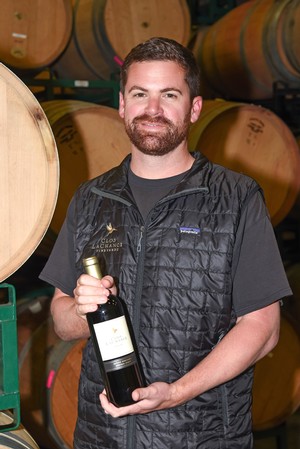 Steve Driscoll is the Winemaker at Clos LaChance. Steve joined the team prior to the 2009 Harvest Season. Steve Graduated with a degree in Wine and Viticulture from the University of Cal Poly, San Luis Obispo. Shortly after graduation Steve spent 2 years roaming the cellar of Edna Valley Vineyards in SLO, in which he helped produce fine Pinot Noir and Chardonnays. After his time at Edna, Steve headed back to his home town of Livermore where he took the position of Cellar Master for Ruby Hill Winery. Ruby Hill is one of the oldest wineries in the Livermore Valley, producing great California Zinfandels and Petite Sirahs. In the winter of 2009 Steve set off for New Zealand to expand his knowledge of winemaking and new world wines. He worked for a large custom crush facility producing well known staples of the industry, like Kim Crawford and Little Penguin. After traveling the world, Steve came back to the Central Coast to find himself here at Clos LaChance. In his short time here Steve has grown within the company and moved up at a rapid pace. His knowledge of the cellar and his passion for producing fine wines is unrivaled, and possibly only matched, by his passion for Metallica and Def Leppard.
ULISES BARRON
BARREL MASTER
Ulises Barron is the Barrel Master for Clos LaChance. Ulises Joined the Clos LaChance team in the summer of 2005. New to the wine industry, he quickly took a liking to the hard work and rewarding aspect the production of fine wines gives. Ulises has become a staple around the winery and has grown his knowledge of the cellar as well as fine wines themselves. He first came to Clos LaChance not knowing the difference from a red wine and a white, yet now he is well versed in not only the subtle nuances of wines, but an in-depth knowledge of how each wine is produced. In his spare time Ulises loves spending time with his beautiful daughter Nelly and playing soccer with his friends.
MELINDA COSTIGAN
Vineyard Manager
Melinda has managed vineyards all over the world including Australia, Mexico, South Africa, and several appellations in California. Her enthusiasm and joy are as extensive as her experience.