Julianne Winter
senior SALES & MARKETING Manager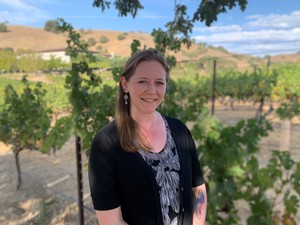 Julianne Winter is Clos LaChance's Senior Sales and Marketing Manager. She joined the Clos LaChance team back in early 2020, and although she had some time away during the chaos of that year, she has been back and working for the winery yet again since March 2021. Julianne's palate has grown more diverse with age, and in the warmer months, she enjoys the lightly oaked flavors of the Monterey Chardonnay and in the wintertime prefers the robust flavors of our Cabernet Sauvignon and 22 Pirates. Little known fact, her expertise in sales and marketing came from her other career as an author and illustrator of children's books. She is also a crochet designer teaching others to crochet on Ink & Stitches YouTube. Any spare time she has is spent with her family, out and about, or unwinding at home.
Stefanie Padilla
Admin and Customer Service Coordinator

Stefanie Padilla started working for Clos LaChance in 2013 in the Tasting Room working the weekends, KRTY concerts, Time For Wine Nights, and with events staff on the occassional wedding. In 2016, Stefanie moved her way from the tasting room to the office where she became the main point of contact for all inquiries coming into the winery by way of phone, email, or in person. She loves working with the Clos team and helping guests have a great experience at the winery. Stefanie has been married for 8 years, and together with her husband, they have 8 children, 3 grandchildren, and 3 doggies. In her spare time you can find her enjoying the outdoors with family and friends while sipping on a glass (or two) of her favorite Pinot Noir wine.