August 4, 2021 | Food and Wine Pairing | Julianne Winter
Summer Time Lunch with Colibri Rosé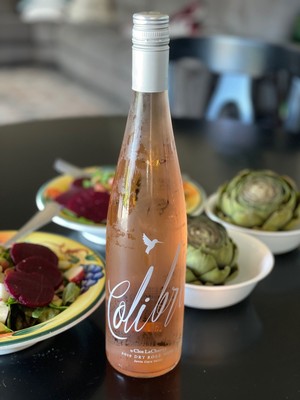 As summer comes to its final weeks and autumn waits just around the corner, we would like to share a delightful pairing of fresh, garden-picked veggies alongside a chilled bottle of our Colibri Rosé.
The artichokes had been at full height and yet to bloom in the garden—which of course you do not want if you're planning to eat them—the perfect time to harvest. We cut back their stems to about an inch above the base of the artichoke. We clipped the sharp edges of each leaf and then placed a pot of water on the stove. While the artichokes boiled away happily softening in the pot, back into the garden we went to get a plethora of greens for a nice summer salad.
The romaine was happily plucked, thoroughly washed, and spun dry before being chopped up and added to our bowls. The lovely thing about growing greens in your garden is that they just keep replenishing! Which will mean many of salads in the days to come.
Salads can be made in a number of ways, with a number of ingredients, but the toppings we always like to keep on hand include nut and dried fruit mixes, tortilla strips/croutons, beets, apple, cucumbers, canned black beans, canned corn, and avocado.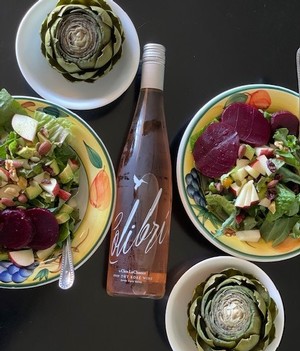 The fruit added gives this summer salad a sweetness that pairs perfectly with a glass of our Colibri Dry Rosé. Topped with a nice balsamic or apple vinaigrette and you have a lovely salad to eat for lunch.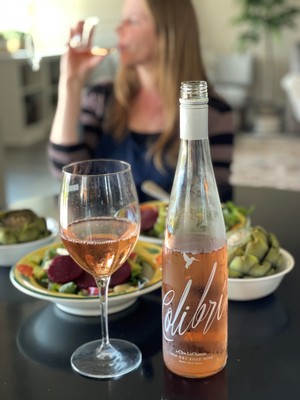 Once your salad is prepared, it's time to check on your artichoke. They do take some time to boil, generally about 20-40 minutes or so, or until the base is fork tender. When they are done, you will want to make something scrumptious to dip them in. Our recommendation, a dollop of mayonnaise sprinkled with Garlic and Herb Mrs. Dash seasoning to take that artichoke to the next level!
Our Colibri Dry Rosé, with its aromas of honeydew melon and rose petal, is filled with flavors of watermelon and strawberries. Its light body and medium acidity, make this very low sugar wine, produced from primarily old-world style head-trained Grenache vines, truly an elegant choice to accompany this delightful meal.